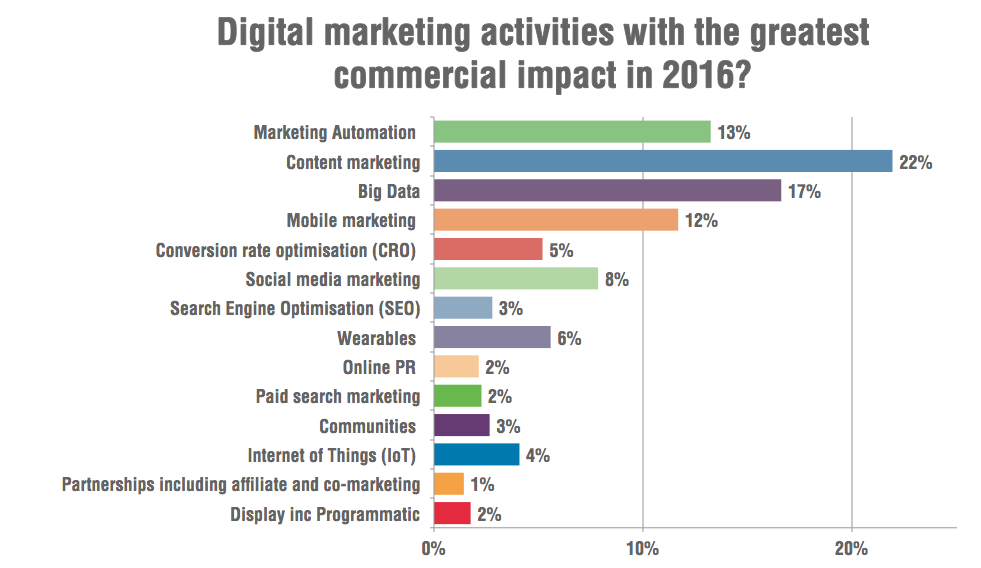 Data is key to the success of any digital marketing campaign. Knowing the up-to-date marketing statistics of each of the sectors will give you an advantage when it comes to putting your digital marketing plans into practice.
For example, marketing statistics like the ones in the image, which are from a study published by Smart Insights in 2016, are crucial when deciding which channels to invest in, in 2016.
As you can see from the table, the digital marketing activities that are expected to have the most commercial impact this year are content marketing, according to 22% of respondents, followed by Big Data (17%), automation marketing (13%) and then mobile marketing (12%).
Marketing statistics to make the right decisions
The following 15 marketing statistics will allow you to adapt your digital strategies to achieve a greater impact for the activities that you plan:
1.- A newsletter segmented and sent with frequency is one of the most efficient content marketing formulas for achieving your objectives.
Source: National Client Email Report (2015)
2.- 47,8% of ecommerce in China is mobile. Taobao of Alibaba dominates the market with 84,5% of online sales.
Source: Econsultancy. State of Ecommerce in China Report (2015)
3.- The Programmatic buying of digital advertising will account for 21,3% of the investment in online advertising.
Source: Estudio Zenith Vigía (2015)
4.- A third or businesses are planning to introduce a Digital transformation program and another third already have one.
Source: Smart Insights (2015)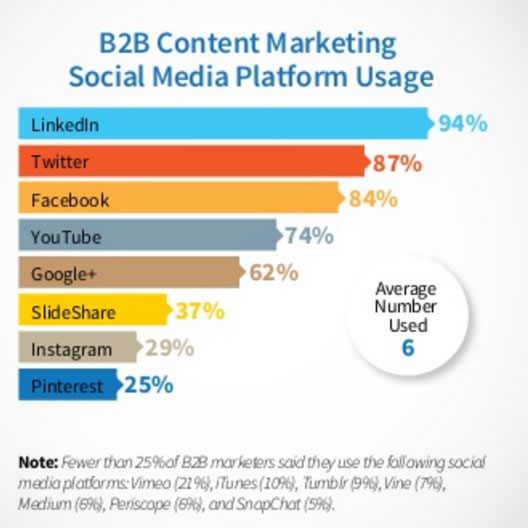 5.- 94% of B2B marketing managers use LinkedIn as part of their content strategy. Other popular platforms are Twitter (87%), Facebook (84%), YouTube (74%) and Google+ (62%).
Source: Brightcove (2015)
6.- Webpages with more than 30 landing pages get 7 times more leads than those with that only have 10 landing pages.
Source: Wishpond (2015)
7.- Conventional banners register a click through rate (CTR) of 0,12%. Mobile banners have a CTR of 0,14%
Source: Contently (2015)
8.- Email marketing converts three times more than social networks.
Source: Mckinsey (2014)
9.- The database is the most important factor when planning any direct marketing action with an importance of x6, compared to the offer which has an importance of x3.
Source: Datacentric (2015)
10.- Content marketing in 2015 generated three times more leads than traditional digital marketing and involved 62% less costs.
Source: Hubspot (2015)
11.- Opening of emails on mobile phones ranges from 15 to 70% depending on the target audience, the product and the type of email.
Source: emailMonday (2015)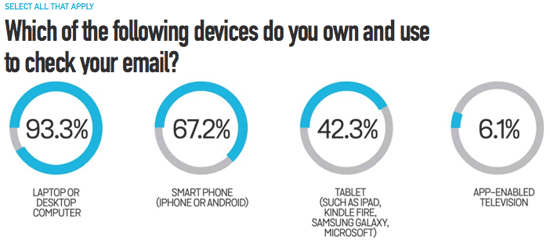 12.- Only 8% of companies have an email marketing team despite the fact that the data shows it is the digital channel where the highest return on investment is achieved.
Source: Mark the marketer (2014)
13.- You are 30 times more likely to receive a response from a LinkedIn email than a cold call to a B2B contact.
Source: Salesforce (2015)
14.- Two-thirds of readers admit to having been disappointed on some occasion when they found out that an article or video, was sponsored by a brand.
Source: Wishpond (2016)
15,- 72% of users pick email when asked which form of communication they prefer when dealing with a company. The second highest channel is postal mail with 48%.
Source: Marketing Sherpa (2015)
As you can see, digital marketing statistics are essential for making the right decisions. The information is constantly changing so it is a good idea to routinely do some research and keep up to date with the latest user behavior on the different digital channels.
All of your digital marketing needs in one place. MDirector is the first and only Email Marketing and Marketing Automation platform. Capture through our landing page generator and communicate in all of the channels: Email, Mobile, Display and Social Ads.