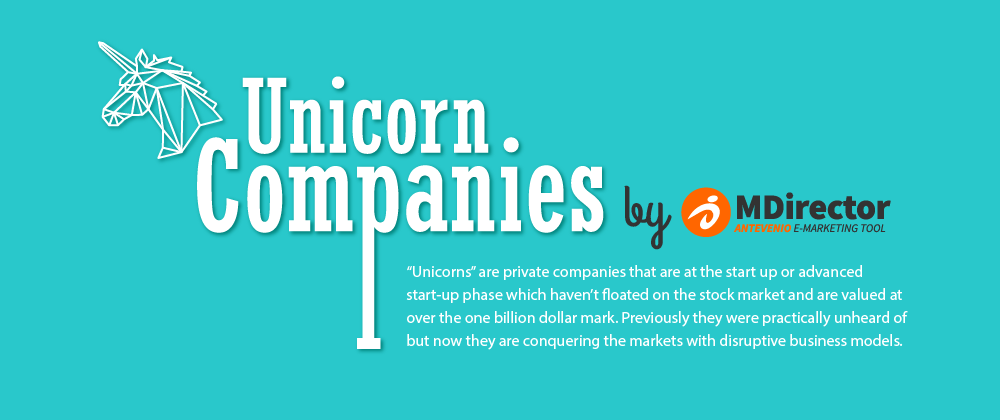 Not long ago when we thought of Unicorns we would imagine magical creatures from fairy tales but not anymore, that all changed in 2017. Now when we hear the word, we picture start-ups valued at over 1 billion dollars and which haven´t floated on the stock market yet. Something that was impossible decades ago!
It was Aileen Lee, founder of Cowboy Ventures, who gave name to a new kind of company that was conquering the markets with a breakthrough business model, and in some cases even illegal to current standards. She coined the name in a post on TechCrunch titled " Welcome to the Unicorn Club: Learning from Billion-Dollar Start-ups".
At MDirector we want to provide you with up to date information about the companies that are constantly making headlines. And that is why we have created two great infographics under the title "Unicorn companies", from data published by The CrunchBase Unicorn Leaderboard.
All of the graphics that you see in this post you can take and use on your own website. Don't worry! We will explain how to do it at the end of this post. 
A crazy future
A taxi service that doesn't own its own fleet of vehicles? A hotel business that doesn't own any rooms of its own? A company that offers trips to Mars? These companies once seemed crazy but now investors all over the world are fighting to be part of them. Have we all gone mad? Maybe not. Unicorn companies are different and they play by different rules.
No longer does the expression "That's the way its always been done" hold true. Unicorns have turned everything upside down causing disruptions that even include having to overcome current legal barriers. These are companies that challenge all modern conventions.
They are ahead of the game regarding technological innovations, something that was unthinkable just a short time ago.
As some would say, they are "bloody" young.
And of course the fundamental data: They have exceeded the one billion dollar valuation mark.
China and United States occupy the Top 10, obviously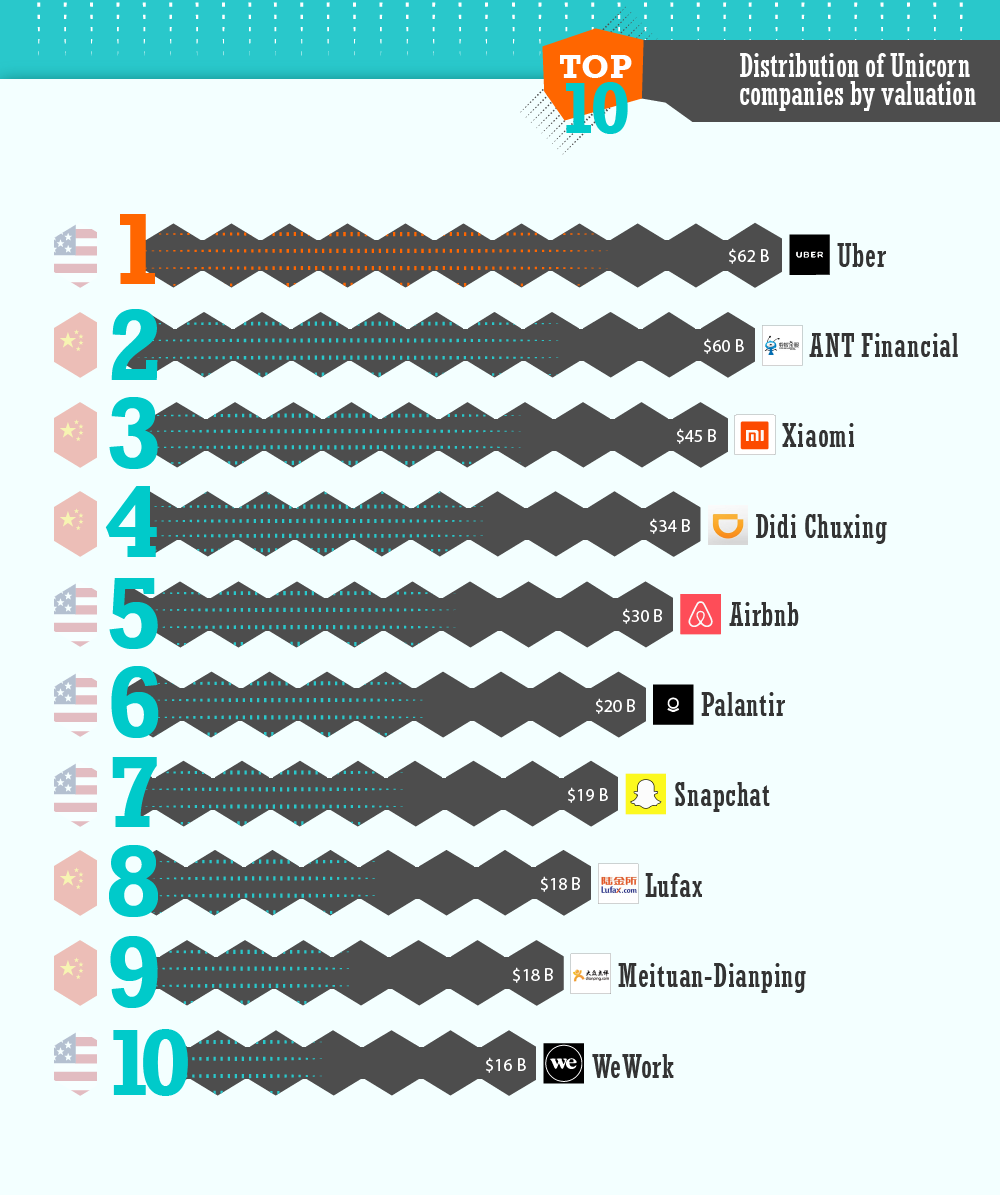 The ranking of Unicorn Companies can change at the speed of light and this offers the possibility that new candidates can suddenly emerge and become the new jewel in the crown.
According to the latest up to date valuations on which our infographics are based, the top 10 companies that sweep the board are from The United States and China. Interestingly there are 5 from each country, which is understandable when you consider the following:
Silicon valley is the mecca for technological innovations, and of course, it's a place where the people have a lot of money. Some of these companies, which we are going to talk about below, manage millions of dollars with the same skill and ease that Messi and Ronaldo dodge defenders.
China is the new emerging power mainly because of the sheer size and population of the country along with a domestic market that would please any of our companies.
The current top 10 unicorn companies are made up of the following brands:
Where are the unicorns?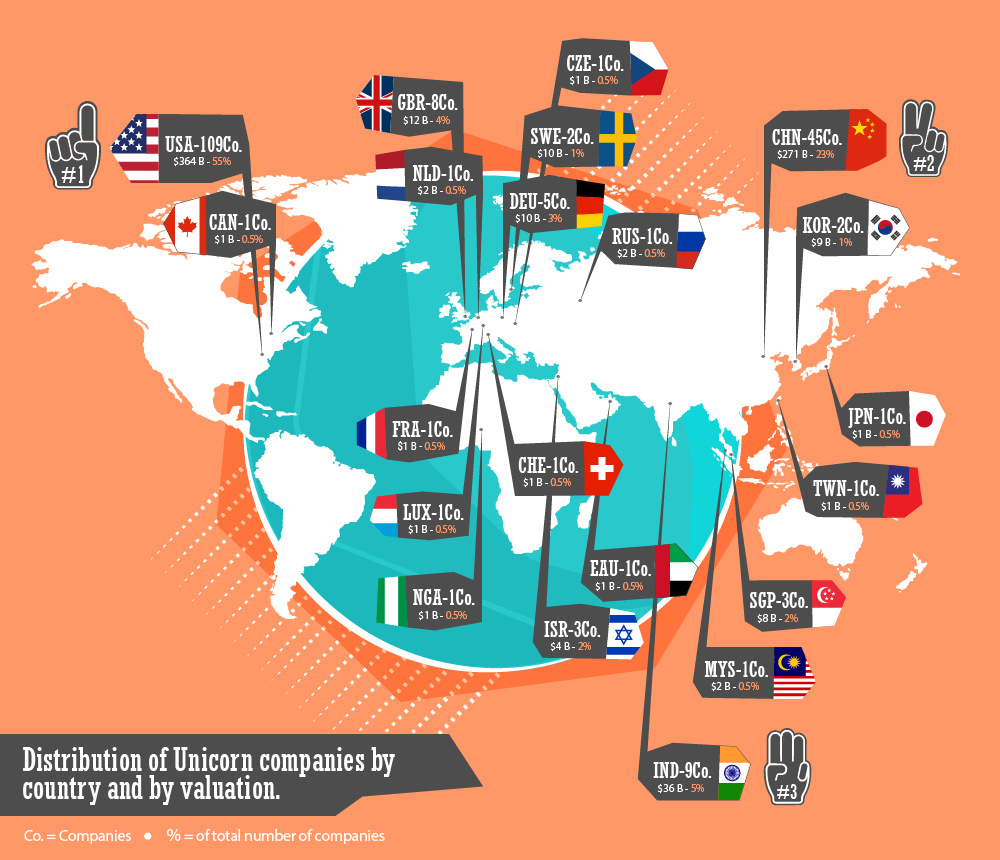 Aren't there any unicorns in Africa or Latin America? Unfortunately, a difficult combination of elements is needed to be able to set up unicorns: technological development + lots of money. That is why; we find most of the unicorn companies, of the 200 analysed, spread out over just 3 continents:
North America: The country with the most unicorns is the United States due to their impressive collection of 109 unicorn start-ups which is 55% of total. Canada in comparison has only 1.
Asia: 45 unicorn companies are Chinese, which means 23% of total. Then you can find 9 in India (5%), 3 in Singapore (1%), 2 in Korea (1%), 1 in Japan and 1 in Taiwan.
Europe: The old world refuses to die! We are third on the list of start-ups driven by the British with 8 (4%), the Germans with 5 (3%), and the Swedish with 2 (1%). There are also a rash of countries with 1, like Holland, Russia, France, Switzerland and Luxemburg. Even though it looks like a mistake, there are still no unicorns in Spain.
Unicorns are digital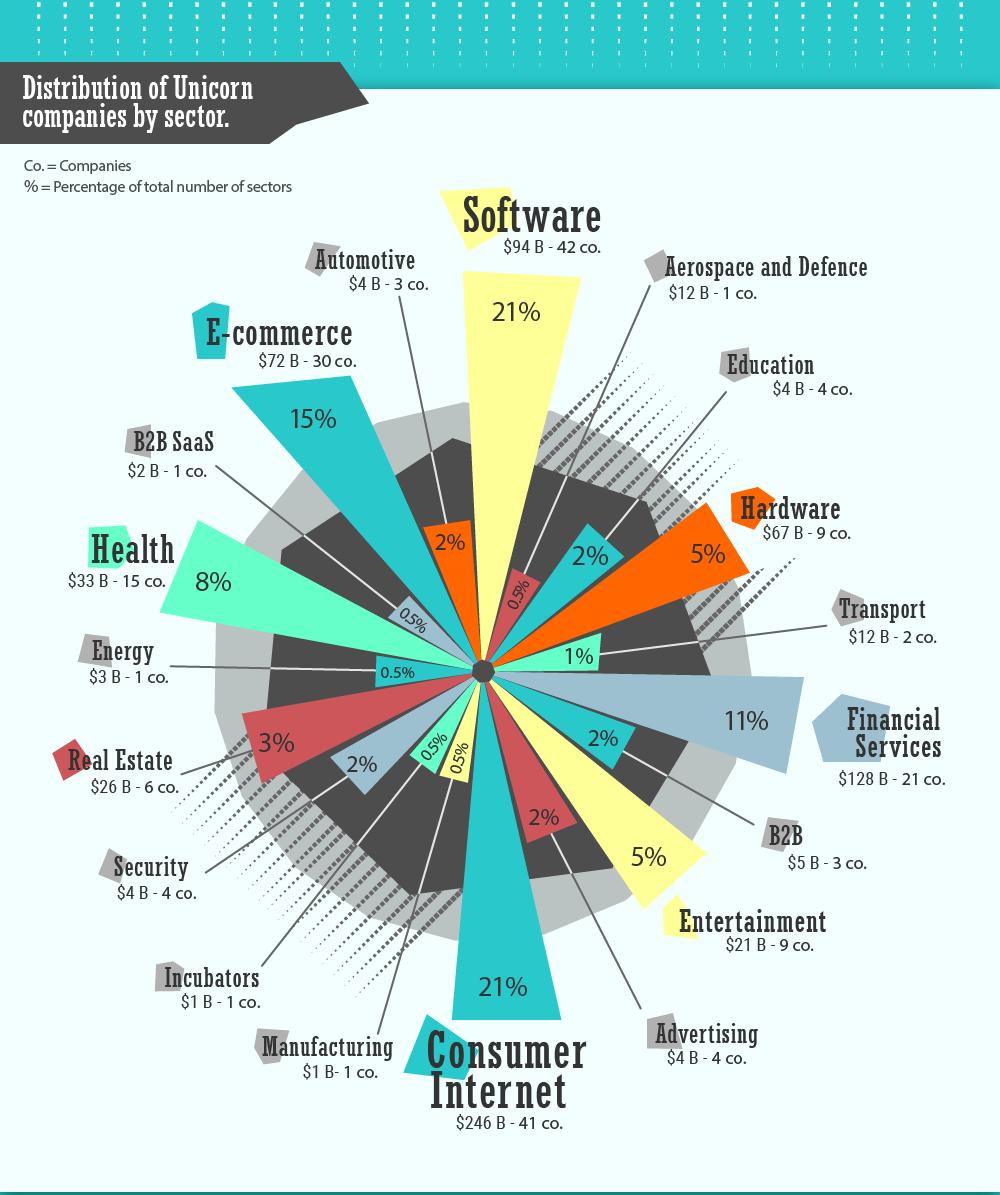 A common error is to think that Start-ups that are valued at more than a billion dollars are only focused around the field of technology. It is true though that the 3 main sectors are:
Software: 21% of unicorns
Consumer Internet: 21%
E-commerce: 15%
However, we can find more companies like these in and around most traditional industries. A good example would be the Fintech phenomenon, which is brining a new reality to the old banking system and it has 11% of total unicorn companies working in the finance services sector. Another example would be the health industry with 8% of total companies.
As you can see from the infographic, you can find unicorn companies in many other sectors, such as:
Entertainment (5%).
Real estate (3%).
Automotive (2%).
Education (2%).
Advertising (2%).
Transport (1%)
Manufacturing (0,5%).
Energy (0,5%).
Show me the money!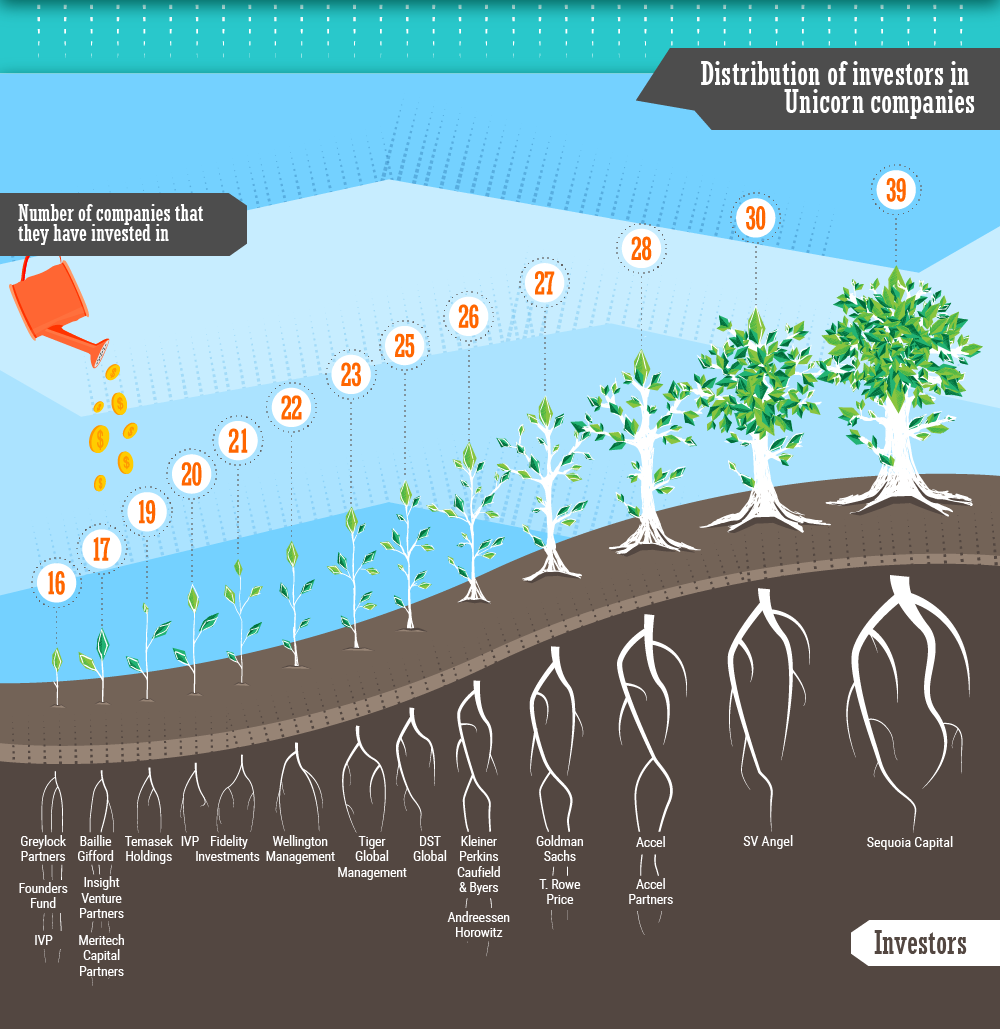 Without money there wouldn't be any unicorns. It is essential to know who is behind these companies and who are bailing out the start-ups that are losing money in order to keep them afloat. Why do they do it? The end result is basically to get a big piece of the cake to share in the coming years.
The main 10 capital risk companies that bet on unicorn companies are:
Sequoia Capital: Cisco Systems, Oracle, Apple, YouTube, Yahoo. Google. And now AirBnb and DropBox. The companies that Sequoia Capital bet on seem to work. It is thought that neither Silicon Valley nor the world as we know it would have existed without the intervention of Sequoia who have invested in a total of 39 unicorn companies.
SV Angel: Is the second largest capital risk company in terms of companies that they have invested in which stands at 30. They have supported companies like Facebook, Foursquare, Square, Twitter, Zynga and Groupon. In 2011 they launched StartFund, a joint venture with DST to make direct investments in companies associated with Y Combinator, one of the main seed accelerators in the world.
Accel Partners: Etsy, Facebook, Groupon, Veritas, ComScore, Baidu o Brightcove are just some of the 28 unicorn companies that they have invested in out of the 200 analysed. They have offices in Palo Alto, New York, London, India and China.
Goldman Sachs: Founded in 1869, is one of the biggest investment banks in the world. It has invested in 27 unicorn start-ups; most notably among them are Facebook, Spotify, Square and WeWork.
T. Rowe Price: With 27 unicorns, is the fifth largest capital venture firm in terms of investees. Among its investments are Glassdoor, Airbnb, WeWork, SurveyMonkey, Dropbox, Eventbrite, Evernote, Zynga and Twitter.
Kleiner Perkins Caufields & Byers: They are one of the most popular investment companies out there. Some of the companies that they invest in are: AOL, Amazon.com, Citrix, Compaq, Electronic Arts, Google, Intuit, Netscape, Sun Microsytems, Symantec, Verisign, and Zynga. In total, they have invested in 26 Unicorns.
Andreessen Horowitz: Founded in 2009 by Marc Andreessen and Ben Horowitz is one of the most high profile firms and participate in 26 unicorn companies. Their investments have helped improve companies such as Dollar Shave Club, Bluebox, Box, Fab, Oculus, Airbnb, Lytro, Jawbone, Belly and Foursquare.
DST Global: It started out as Digital Sky Technologies (DST) but has since become Mail.ru. It is the corporation that owns VKontakte, the Russian Facebook. They have also invested in 25 Unicorn companies as well as others such as Facebook, Zynga, Twitter, FlipKart, Spotify, Zocdoc, Groupon, Xiaomi, Olacabs and Alibaba.
Tiger Global Management: Also known as "The Tiger Fund". Its investments have helped a total of 23 unicorn companies like Zynga, LetsBuy.com, Glassdoor, Razorpay, Airbnb, Delhivery, Meitu and SurveyMonkey.
Wellington Management: Has invested in 22 start-ups that are considered unicorns and has a presence in almost every sector as well as global venture capital markets. Its investments include The Trade Desk, CytomX Theraputics, Apigee, Datalogix, SensAble Technologies, Airbnb, Allena Pharmaceuticals, Warby Parker and Pinterest.
Unicorn companies by year of foundation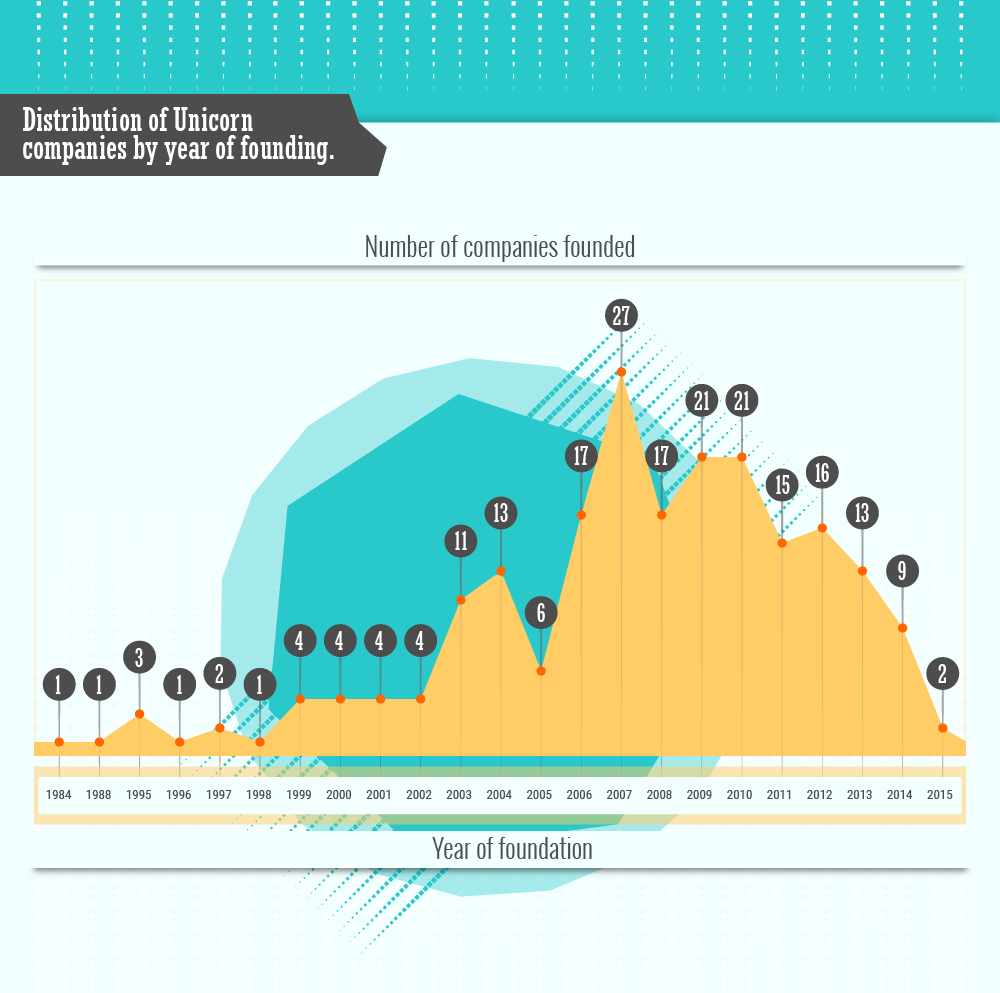 Unicorns are young, but not as young as you might imagine, as you can see from our graphic. A little over a quarter of the 200 companies, 55, are less than 5 years old and 13 of them are well established.
It seems that the best years to found unicorn companies are gone. The best years were actually between 2006 and 2012, right in the middle of the global crisis. Maybe that situation was what helped these types of companies to appear, because they questioned absolutely everything in a moment when everything seemed to be lost.
The number of unicorns founded during these years were:
2006: 17.
2007: 27, the record number.
2008: 17.
2009: 21.
2010: 21.
2011: 15.
2012: 16.
Check out the information in the following infographics:

List of unicorn companies by country and value:

Did you like this post? Are you surprised by what you have learnt about Unicorns? Share this infographic on your website.