¿Do you need to integrate your PrestaShop ecommerce with MDirector? Thinking about you and your clients we have developed the most advanced PrestaShop Addon of the market with a professional tool of email marketing & SMS campaigns. Download the plugin of PrestaShop with MDirector and you will always have your database perfectly synchronized, in a simple, easy and intuitive manner.
Why integrate your Prestashop ecommerce with MDirector?
We have developed the Addon Module of email marketing & SMS for PrestaShop to be as flexible as possible. Here you will find all these features:
Module set up: You just need to enter MDirector API credentials in your PrestaShop ecommerce.
Subscribers: Synchronize your client database between PrestaShop and MDirector.
PrestaShop Email Marketing & SMS campaigns: Create and send your MDirector campaign from PrestaShop.
NEW! – Send your welcome email campaign using MDirector.
Configuration
In the twinkling of an eye you can set up the use of the platform introducing the API Key for your MDirector account in the dashboard of PrestaShop.
There are 3 possible cases:
1) I already have an Advanced or Premium MDirector account. In that case you only need to request access to the API, as shown in the picture below.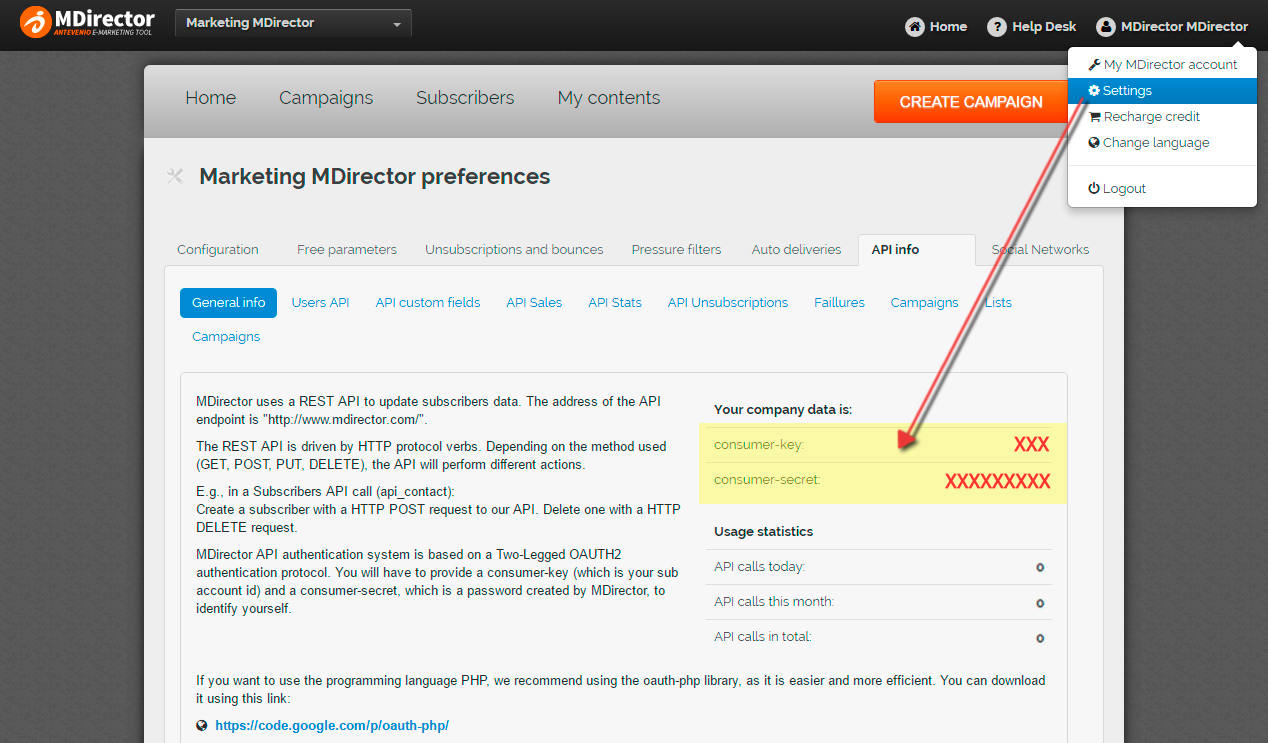 2) I have a Starter account. You just need to update the type of your account to Advanced or Premium and follow the previous step.
3) I don´t have a MDirector account. In this case you need to create an account from MDirector.com. You will register with a Starter account and then follow the steps in previous point, 1 and 2.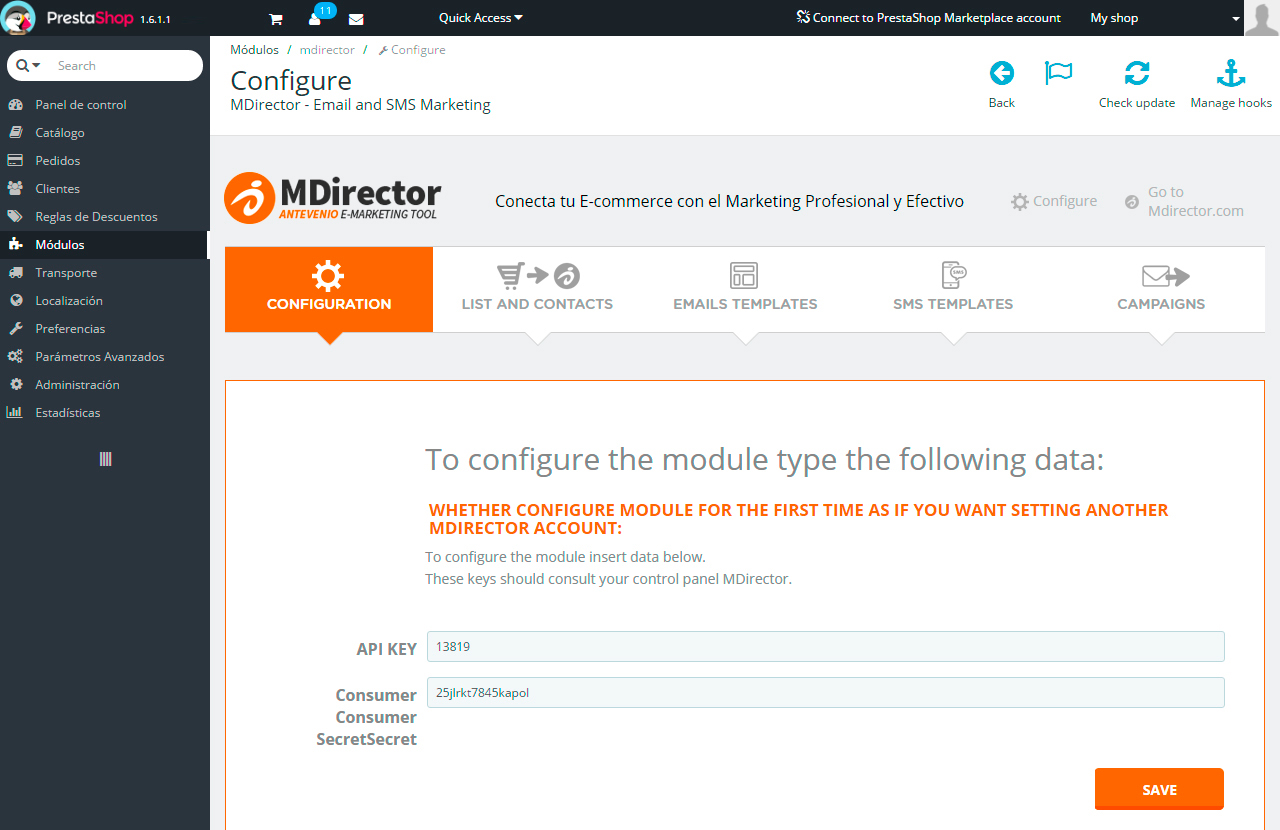 Subscribers' synchronization
The process of the synchronization of the database will always start with the data from PrestaShop ecommerce platform.
By downloading the plugin you will manage to have the main available groups in PrestaShop platform synchronized with the lists you have created in your MDirector account. You just need to choose one the lists available.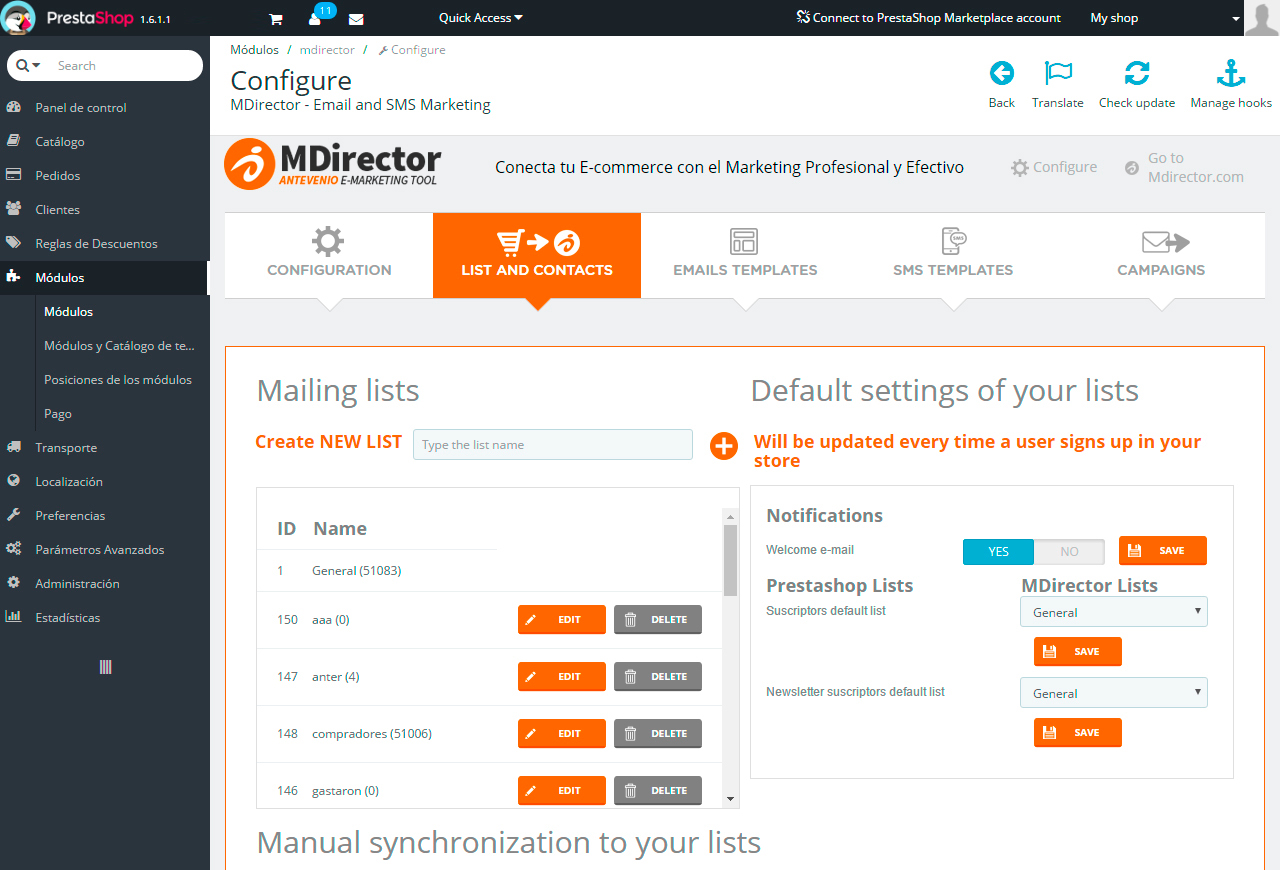 From PrestaShop platform you can create a list in MDirector, define the default lists that will be synchronized with PrestaShop groups or perform synchronizations of certain groups at specific moments. (For example: Send to a MDirector list all the clients that have purchased by a value of more than 200€ in the past two months)
The fields that are synchronized by default are: Name, Last name1, Last name2, Email*, Mobile*, Sex, Date of Birth, City, State, Zip Code and Reference. (* Mandatory fields)
We have also created a button that allows re-synchronization of the subscriber list of PrestaShop platform with MDirector. In addition to synchronize your new subscribers, it will show up the number of subscribers you have in each list.
Create an Email Marketing & SMS campaign with your addon
The addon allows you to create email marketing campaigns inside PrestaShop ecommerce platform. To do this, you need to access a panel where you can perform the following actions:
– Selection of the layout: it will be included 3 or 4 different templates.
– Selection of colors palette.
– Selection of products to be included.
– Selection of the subscribers' list to which you want to send it.
– Selection of campaign subject
– Selection of articles from your ecommerce via a search engine so that you can easily integrate them into your creativity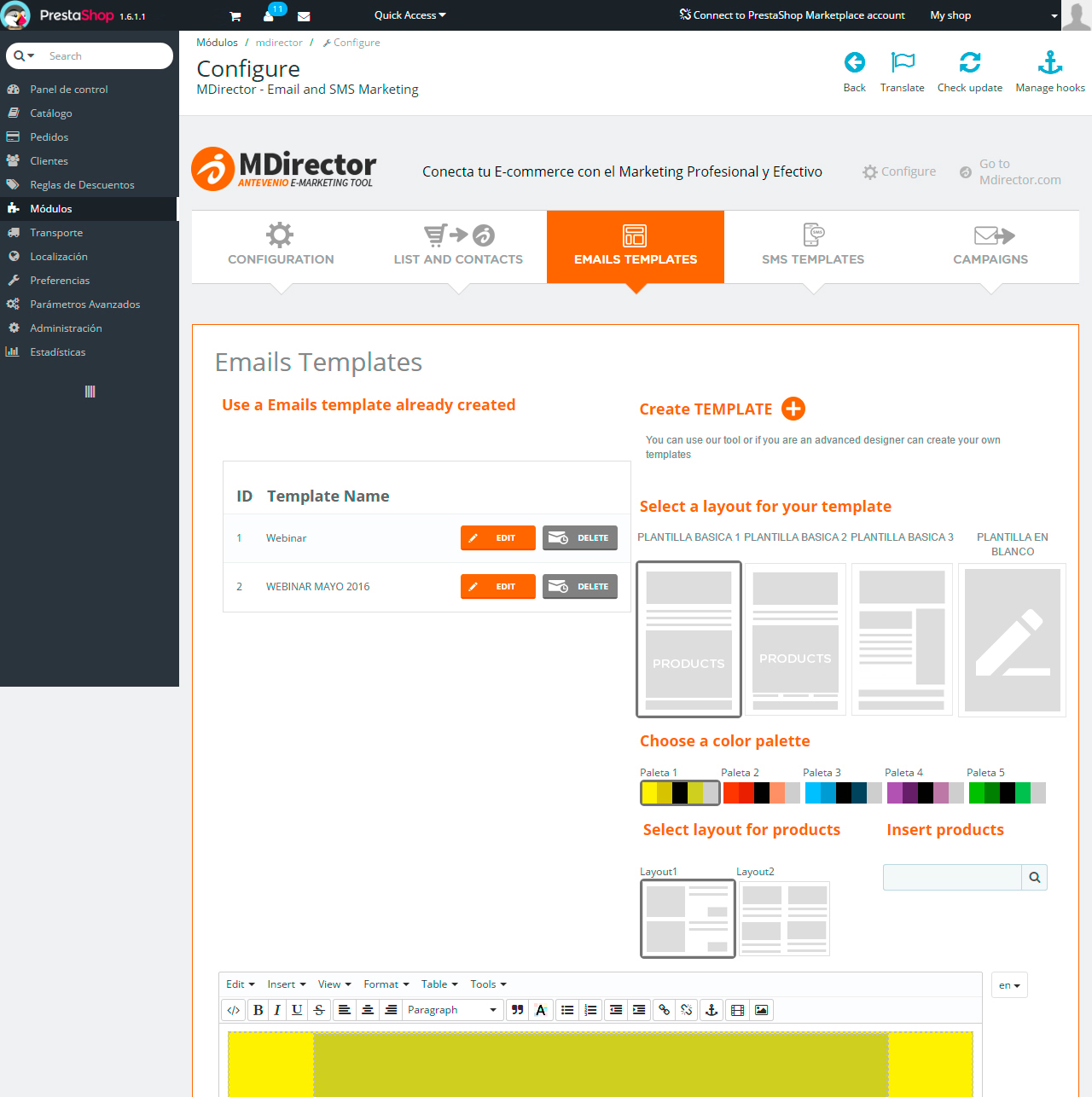 Download the plugin of PrestaShop ecommerce with MDirector. In addition you can also include other parameters for the campaigns that are available in MDirector platform such as: Header, Analytics parameters, Campaign, Campaign tags.
SMS Campaigns
The plugin will allow you to create SMS marketing campaigns inside PrestaShop platform in an easy and simple way. You will find a very intuitive interface to take the following actions:
– Enter the SMS text
– The system allows to include links in the text so that you can redirect the client to your online shop.
– Selection of the subscribers list to which you want to send it.